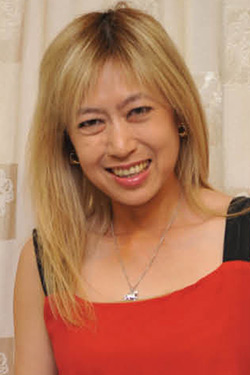 Dear readers,
Fine-tuning home feng shui does not need to be a complicated task and a key mission of our magazine is to demonstrate all the ways to roll the practice of feng shui into daily life, so that it becomes a completely non-intrusive part of living. There is indeed so much more to feng shui than just studying floorplans and taking directions, and while learning complicated formulas can help identify lucky and not-so-lucky sectors, it is important never to forget the bigger picture, the environment and the quality of the air around us.
Feng shui features in all aspects of life and it affects almost every dimension of the things we see, hear and do. Feng shui is found in almost every aspect of the living condition and in every issue, we try to show as many different aspects of this as we can. Thus, this April issue, we bring you stories on art, architecture, music, sports and fashion. All this and more is feng shui!
We want to introduce readers to Lim Wei-Ling, artist and gallery owner who epitomizes living life with excellent feng shui, although she does it seamlessly and effortlessly. She chats with our correspondent Dato Kee Hua Chee, revealing that finding her niche in the art world happened quite by chance, adding that while things may not always pan out as per what you expect, setbacks can turn out to be the stepping stones to success. Yes, she is mindful of feng shui but does not consider herself a zealous practitioner. Nonetheless she is aware of the energies that surround her; after all, what is art but the energies generated when your senses evoke pleasure viewing something beautiful and meaningful.
Our columnist Lulu Lee also drives this point home with her musings on the perils of over-planning. While making a blueprint for every project you take on can make you feel better, plans can and almost always go awry, and when that happens, frustration and disappointment can leave you immobilized. She ponders a new philosophy of life, one that leans on greater spontaneity and going with the flow, coming to the conclusion that this is exactly how feng shui should be practised. Some food for thought?
In the world of music, we feature the man of the moment, Ed Sheeran, who has surpassed all records and milestones, completely dominating the charts to an extent that he is entering into the consciousness of everyone no matter age, race or gender. He's a special one indeed. We take a look at what makes him so, and also at his wonderful collection of psychedelic tattoos, a growing symbolic catalogue of his achievements and life experiences. In sports, the Formula 1 season has just started, and Lim Han Jin makes an astrological forecast on the teams and drivers, and on who could be having big luck on their side this year.
We also pay tribute to the loss of a great lady, Sunny Hale, a true champion who conquered incredible milestones during her lifetime in her sport of polo. To all girls and women who play polo, she was a living legend. I was so lucky to have known her and to have benefitted from her influence, and I am not alone in feeling the depth of the loss. But while her time here on earth was too short, she has left a lasting legacy that will surely live on.
In politics, the big news is the dramatic impeachment of Park Geun Hye, South Korea's President. Hanni Lim studies the factors behind her meteoric rise when she was totally adored by her people, followed by her terrible fall from grace and power. Pictures of her now show her looking like a zombie, defeated and expressionless where before she was truly a Dragon lady. There is much to gossip about here – black magic, corruption, sex, scandals – so incredulous you almost wonder how any of this can be true. We bring you the story! We also speculate on the frightful feng shui of South Korea's equivalent of the White House. Read all about this juicy tale coming out of South Korea, even as North Korea continues to stun the world with their nuclear tests. Perhaps there is something about the Northeast this year…
Our case study piece focuses on the new Apple head office, designed as a park. It will be having its grand opening this April and we are delighted to bring you the feng shui take on the new building. It seems to have been custom-designed for maximum creativity, inventiveness and success, with careful thought given to allocating the different departments to the sectors that bring out the best performance. The design resembles a spacecraft out of Star Wars, a result of Steve Jobs' personal vision of how an office of the future should look like, even as it blends seamlessly with the natural fauna and flora around it. Spectacular stuff! We are sure it will add to the company's continued dominance in the world of smart phones, computers and iPads, and who knows what else.
Malaysia's LimKokWing Fashion Club of LimKokWing University meanwhile recently showcased at London Fashion Week. Helmed by Tiffanee Lim, its creative director, this was a big deal indeed. London Fashion Week is where the movers and shakers of the fashion industry congregate, and where newcomers hoping to make an impression can catapult into the bigtime. It certainly helps puts Malaysia on the international map in this glamorous and billion dollar world of fashion. Much to be proud of here!
For those thinking of investing in a piece of land to build your own dream home, Chris Yeo has some invaluable pointers from an architectural point of view. Phillip Lim introduces us to the Reclusive Stubborn Star in Paht Chee analysis, while our life coach Shahreen Kamaluddin reminds us to be grateful, as there is so much power in giving voice to this.
As we roll into April, we are moving full swing into Spring when growth energies are at its zenith, and to boost these precious vibrations we should strengthen the element of Wood in our living and outdoor spaces. The Wood element brings the luck of intelligence and creativity this year, a resource that is most vital in terms of energizing all kinds of luck for us. When you have clarity of mind allowing your inner genius to surface, you will always thrive whatever your external environment.
One way to do this is to work with the five elements, and a great way to strengthen the Wood element is to spend time in the garden nurturing the plants around the living space. Ever aware of this, Lillian Too shares with readers her personal take on gardening, a hobby that focuses on nurturing the WOOD element around her home.
We also feature the wonderful cherry blossom, a potent symbol of springtime loved by the Chinese and taken as the national flower by the Japanese. Celebrating the season of Sakura has become a faithful ritual for Japan, and a huge tourist attraction, and as we go to print, we ourselves are planning a trip to Osaka to soak in the amazing chi of the spectacularly free-flowering cherry blossoms.
There's much to read so please enjoy! May you have a delightful Spring and may this season bring you wonderful new opportunities and experiences!