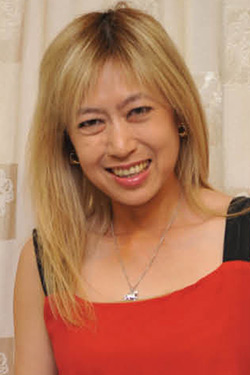 Dear readers,
The New Year 2018 has come; how fast time flies when life is full and there is SO much to occupy our days! It's been a great year for us and now we look forward to the Double Earth Year of the Dog with optimistic anticipation. We just completed our biggest event on our calendar, Lillian Too's Feng Shui Extravaganza 2018, where she gave two fantastic seminars, last weekend in Singapore and this past weekend in Kuala Lumpur. Her presentations are always so full of life, peppered with stories, incredible true tale anecdotes, case examples and most of all, with so much substance – and all told with such perfect timing – it is an entertaining fun ride all the way and yet, everyone comes away with so much new knowledge on how to ensure the year is a safe and prosperous one!
If you missed the Extravaganza, do make sure you catch the video online (www.wofs.com for more info on this) and although there is nothing quite like being there live absorb the essence of Lillian's advice for the year, which made everyone in the audience feel not just prepared but so inspired to get started on making the year a truly special one, you should not miss out on all that she said! It could well make a huge difference to your 2018!
Lillian shared so much this time, it is quite impossible to summarize it all, but here are some interesting highlights – the year lacks Metal energy, so wear lots of precious metal, and interestingly, display brass or wear gold-plated copper jewellery to benefit from the high copper content; every animal sign has something going for them, but the SNAKE stands to benefit hugely from some exciting configurations, while the RAT faces some challenges this year, so do take note of the amulets and remedies you need to stay protected; the Earth signs of DRAGON, DOG, SHEEP and OX will benefit hugely if they can simulate completing the Earth Cross to cancel out the Triple Earth Penalty should this be their affliction. Everyone can re-watch the Extravaganza via videos of the event available through Lillian Too Mandala online!
Most of all, her main message this year is to TAKE YOUR POWER BACK! Whatever kind of year you have, whatever your circumstances, never give your power away; if your confidence or self-assurance is low, it is difficult for to be happy, productive, effective or hard to achieve anything, so work on strengthening your inner power, and never give it away by relying on others.
If you want success, you need to take back your power, whether it is from your boss who expects you to work impossibly long hours, from your colleagues who may knock your self-confidence sometimes so gradually you hardly notice, from your friends who demand too much of your friendship, or from family members who may not understand your other commitments.
Taking your power back is a mindset, and when you can do that, your whole life will change for the better.
More on Lillian's Extravaganza within, but in this issue, we also bring you some wonderful stories to get you started on the new year. This is a time when you must refresh, renew and rejuvenate - in every aspect of your life.
Materially speaking, the one thing you can update is your phone! Today, so much of our lives is conducted on the smart phone that it will one day make the desktop computer obsolete. The newest offerings from Apple and Samsung take a big leap forward into 2018. Lulu Lee, our reluctant feng shui practitioner muses on her best Christmas gift ever, the iPhone X, and having become a proud owner of this fantastic machine myself, every word she writes is true!
Spiritually speaking, Charok Lama Rinpoche, a reincarnate lama, writes on past lives versus present lives, and what it means to be the recognized reincarnation of a yogi or high lama. He talks much about Karma and is of the view that it is a much-overused word, especially in the light of popular spiritualism, and while this is not a bad thing, perhaps the true meaning of the word has become rather shaded. He puts the spotlight on action and consequence, and what it means to learn from past actions.
January is also a time for renewal of friendships and New Year resolutions. Dato Kee Hua Chee speaks to five beauties on this and the best gift they have each received – and interestingly, not one stated their best gift was something bought from a shop! We also bring you 10 Happiness Resolutions for the new year, inspired by Harvard's Happiness Guru, Tal Ben Shahar, whose class on positive psychology has become the most popular course at this great institution.
Meanwhile, we also bring you our Paht Chee analysis of the most written-about couple these days – yes, Prince Harry and Meghan Markle. What could be more dreamy or perfect than the world's most dashing and eligible prince sweeping everyone's favourite newly-minted TV-lawyer off her feet? While us SUITS fans won't get to watch her in our favourite show any more, one consolation - we get to see a lot more of her in the popular press, and on the arm of our favourite royal! Phillip Lim looks at their charts to see how compatible they really are, and gives us some cute trivia about them.
This past month, Lillian Too went to Monaco, playground of the rich and famous and home to the world's most admired royal family after the British monarchy, the Grimaldis. There on a feng shui consult, she investigates the luck prospects of this glamourous coastal principality, and notices the naturally perfect textbook Landscape configuration that so many of the properties there enjoy. Black Tortoises, Green Dragons, Crimson Phoenixes… in Monte Carlo, these ideal feng shui configurations do not need to be manmade, they are naturally occurring. What could be better feng shui!? No wonder Monaco has always been thriving!
Our travel features take us to the peaceful Lake District in the UK, the epitome of "England's green and pleasant land" and home to famed poet William Wordsworth and writer Beatrix Potter. Helen Oon describes the unique charm of this place, while closer to home, we feature Bangkok's Central Embassy Mall, a shopping haven to rival the world's best, with some uniquely wonderful feng shui features. In China, Tianjin's newly-launched library is an architectural feat, but more than that, a showcase of feng shui symbolism at its most extreme.
We also feature the inspiring and heart-wrenching story of Maestra Thai Thi Lien, Vietnam's great Matriarch of Classical Music, as told by Prof. Snezana Panovska, who recently attended her 100th year old birthday celebrations in Hanoi. Hers is a tale of survival, endurance and the human spirit; this grand lady used music to survive the Vietnam War, and emerged stronger, raising one of the world's best pianists in her son Dang Thai Son, who became the first Asian to win the prestigious Chopin International Piano Competition in Warsaw, Poland.
Our other personality feature, from South Korea, is pioneering artist Kim Il Tae, the first in the world to paint in 24K real gold! His works were recently exhibited in Malaysia, featuring auspicious imagery of Dragons, Horses, flowers and Gods of Wealth, Health and Longevity. Using a technique he spent years perfecting, something no other artist has yet to try, he fashions impressionistic works of art out of shimmering real gold, quite the sight to behold! As we enter a year completely lacking Metal, this is just the kind of art one should be thinking about bringing into the home.
Lots inside to think about as you welcome 2018, so here's wishing you a wonderfully happy, prosperous and fulfilling year of the Earth Dog!