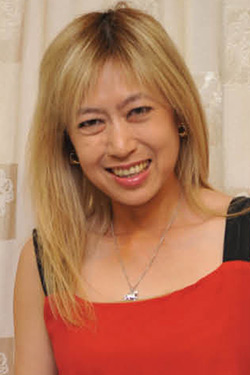 Dear readers,
Where does feng shui come from? How did it originate? Yes, it is an ancient Chinese practice – some call it an art, others insist it is a science – and while today it has become much more widely known the world over, for the Chinese it has been a way of life for centuries. There are many old lineage texts and scriptures, sometimes written in highly cryptic poetic form that make up China's vast intellectual gold mine.
Lillian Too contributes a thought-provoking piece this issue, Reflections of a Feng Shui Master, where she puts herself inside the mind of an ancient feng shui master, meditating on the nature of life and the environment around us. She uses as her inspiration ancient Chinese landscape paintings that depict what it must have been like in the days of old, immersing herself in China's awe-inspiring sceneries that feature soaring mountains, great stretches of water and seasons in their varied glory. If you are a fan of old-style Chinese brush stroke paintings, you can picture the landscapes in your mind.
Lillian's piece is almost reflective of one of Mozart's most famous epiphanies, where he says, when he finally completes the composition of a symphony, it is as if for one moment, he can hear the entire symphony in a single note. For the fervent practitioner, Lillian's piece reminds us that when you practise feng shui, you must always visualize the big picture.
Since feng shui practice comprises many different formulas, when you attempt to apply them concurrently without truly appreciating the philosophy, you can get frustrated by the contradictions inherent in the formulas. So it really is important to occasionally step back and "smell the winds" so to speak, as much of feng shui's tenets arise from the mind contemplating the living environment.
Back to the present, we are seemingly living in extremely busy times; the smart phone connecting us to the world via internet filling our days to the brim; with not a second to spare to simply chill out, to think or even reflect. Keeping busy has its upsides and its downsides, but when one loses the ability to juggle everything, life can turn into a huge stress monster. Should you be feeling like this, our articles on how to live mindfully, how to boost productivity, and how to multitask effectively might perhaps help you get back on track.
This issue we also introduce you to our new columnist Audrey Tan, a pharmacist turned artist turned journaling expert. She shares some genuinely great ideas on the joys of keeping a journal. She shows how anyone can turn experiences into priceless memories – all beautifully preserved with personal texts, colourful stickers and candid photographs. Her tips are fabulous to use in conjunction with our annual feng shui planners and diaries.
France always seems to have incredibly sexy and sensational leaders – first Nicolas Sarkozy and his model wife Carla Bruni, then the sexy Hollande with his demanding mistress who became his First Lady and now Emmanuel Macron with his matriarchal wife Bridgette Trogneux, his former school teacher. Hanni Lim writes a feature on this handsome new couple, highlighting some insightful findings – first, both are born in Snake years – second, she the wife is 24 years older than him – highly unusual, although from an astrology viewpoint, these two cycles of Snakes pairing might actually be extremely auspicious all round. The pictures paint a thousand words, and you surely cannot see a happier or more loved-up power couple. This being the Rooster Year, it's a great year for them, the Rooster being the Snakes' ally!
Speaking of which, for all parents expecting Rooster born babies this year, we bring you some special advice on what you can do to give your newborn an edge in life.
This issue, we are truly happy to bring you Elaine Kang's story. She is one of Malaysia's most popular singers and she shares her inspiring journey coping with a particular health challenge which could well have floored a lesser person, with Dato Kee Hua Chee highlighting how she practices feng shui. Meanwhile, Helen Oon meets boutique hotelier Loh Lik Peng, who discusses his passion for the hospitality trade that has helped him build eight hotels in four of the world's most glamorous cities – Singapore, London, Sydney and Shanghai.
We also feature five success stories, asking what defines success to each of them? You may be surprised at their answers.
For travelers looking for your next destination, check out beautiful Barcelona; the pictures alone will inspire within you a special wanderlust. Chris Yeo's architectural piece focuses on the importance of details when designing and constructing buildings. Phillip Lim's Paht Chee column introduces the Duplicate Star, which brings good fortune or misfortune depending on the combinations of Earthly Branches – animal signs – in your destiny chart.
Meanwhile, our exciting news is that after a break of several years, Lillian Too has agreed to conduct two Masterclasses in Paht Chee in October in response to many requests from her students. There is more interest in Paht Chee now than ever before, so don't get left behind. Don't forget to sign up in time for the Courses Parts 1 and 2, which includes daily workshops doing practical reading. Participants can download their own charts to undertake guided readings under our experienced Paht Chee specialists.
And for Lillian Too's Spiritual Feng Shui 2017 on Sunday 9th July in Singapore at Marina Mandarin, and on Sunday 16th July in Kuala Lumpur at The Gardens Hotel, Midvalley, Lillian Too will be devoting most of the day focusing on the spiritual practices of the five DZAMBHALA WEALTH BUDDHAS to help everyone wishing to strengthen wealth luck with spiritual practices. This is one Spiritual event you really don't want to miss, as she is also planning a fabulous surprise for everyone attending!
Get your tickets online at www.wofs.com, at MPH Bookstores or from Sistic.
We are very much looking forward to seeing many of you again at our forthcoming events.