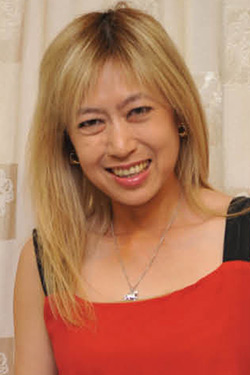 Dear readers,
December is always so much fun because this is the time when you can wrap up for the year, take stock on what you've done, pat yourself on the back and look forward to the future. Those who achieved what they set out to accomplish can now make bigger plans, while those who had to live through more challenging astrological times can anticipate better times ahead. Luck always comes in cycles, and when someone comes to me and says they've been having a really bad year, the good thing is, most of time, I can truthfully say things are bound to change for the better.
It's not a case of when you're rock bottom, the only way is up. No, that's not entirely how feng shui works. How it does work is that the good-fortune-bringing stars cast their blessings on different sectors of the compass each year, and the good thing is, if you understand feng shui, you can predict their flight path. Activating the good luck stars and stalling the bad luck ones comes with feng shui experience, and we make it our mission each year to exhaust the reading of every chart that may impact on one's luck.
There are several different approaches: 1) you can study the overall luck of people in general by looking at charts that affect everybody; 2) you can examine the luck of abodes, which affect those living within said abode; 3) you can investigate each person's personalized luck, which depends on one's animal sign and Paht Chee birth chart. This past year, Lillian Too has revived her Paht Chee Master Class, a Chinese form of destiny analysis that Feng Shui Masters often use with their feng shui assessment and advice. While it is not the same as feng shui, it is an integral part to practicing feng shui wholly and completely, and in response to demand, she has fixed firm dates to teach this again in July 2018. (For information, email courses@wofs.com)
It was a revelation when Donald Trump was voted in as President of the United States – but it was predicted from studying his Paht Chee, a prediction perhaps that no-one quite foresaw. Lillian Too, with Phillip Lim, takes a new look at Donald Trump and his Presidency. Whether we like him or not is not really the point – we are looking at the strength of his Four Pillars, and 2018 does not look like it will be an easy year for him. If he continues along the same precarious path, things could well go awry. Have a read inside.
It is not just US politics that is enthralling, Phillip Lim takes a look at the Paht Chee of the Crown Prince of Saudi Arabia, who has made it his mission to eradicate fundamentalism and to lead Islam into the 21st Century. Since gaining his position as Crown Prince earlier this year, he has made swift moves to remove potential rivals and consolidate his power. But how secure is his position, and can he realise his ambitions?
Of course, Destiny Analysis is not the only factor that matters when one intends to guide one's luck. Just as important as reading charts and timing one's moves correctly, is strengthening one's inner power and spirit essence. One immediate way to do this is through boosting one's Silent Power – our life coach and correspondent Shahreen Kamaluddin elaborates within. Lillian Too is another big believer of self-empowerment, and she shares her 9 Golden Rules to Living. These make you not only materially richer and more successful, more importantly they will help you enjoy that newfound wealth or success once you get it.
Travel is food for the soul, and this issue we take you to three amazing and diverse destinations. Helen Oon visits the splendid Palace of Versailles, home to the Sun King, Louis XIV, and gilded from floor to ceiling in gold. It is European decadence at its finest. Dato Kee Hua Chee explores greater China and ventures further afield to a little-known region called Kaiping, whose architecture is uniquely its own. Here, the buildings blend Western motifs with Eastern ones, and discovering pagoda roofs amid European-styled watchtowers is like stepping foot into a whole different world.
Lillian Too meanwhile leads a pilgrimage to the magical Maratika Caves of the Himalayas, where the Lotus Buddha Guru Rinpoche and his consort Mandarava are said to have gained immortality. A sacred destination that should be on any spiritually-inclined person's bucket list.
While end of the year is when feng shui buffs recharge their batteries and reposition their cures, it is also the time when Christmas and the festive season rolls around. Lulu Lee, our reluctant feng shui practitioner, muses about her favourite holiday, and all of us fall exactly in line with her observations. Gift-giving brings joy to those who receive, but probably even more to those who give. And if you believe in the cardinal feng shui principal of making room for more in your life, that counts as much for your bank balance as it does for your material possessions. Remember the fable of Scrooge? Chinese philosophies and Western thinking aren't all that different after all.
An issue of this magazine is never complete without some mention of the latest must-watch in entertainment. On TV, you must NOT miss Princess Agents, the most-watched Chinese television drama of all time, with a record 500 billion views online. In fact, not just Chinese, I think the download numbers trump any show of all time! The hero Yuwen Yue (played by Lin Gengxin) is such a heartthrob! And his love interest Chu Qiao (played by Zhao Liying) is so sweet.
While at the movies, what's captured all of our imaginations are the Superheroes with all their superpowers! The world goes crazy every time a superhero movie comes out, and this end of year, the two big superhero players Marvel and DC Comics offer up not just one superhero, but a whole team-full. How many superheroes can you fit in one movie and still have the storyline focused and undiluted? It seems they have the formula worked out, because both Thor Ragnarok and Justice League do no disappoint!
Speaking of superpowers, that is exactly what one strives for when one practices Spiritual Feng Shui. While the skills you gain may not give you laser beam eyes or the ability to fly, but they do give you super strength in many other ways that can only be described as magical and other worldly. I urge you to delve a little deeper into the spiritual realm of feng shui to see for yourself. The dates for Lillian Too's Spiritual Feng Shui event are now also out – July 8th 2018 in Singapore and July 15th 2018 in Kuala Lumpur. Do book your tickets early to enjoy special prices, preferred seating and more! (www.wofs.com for tickets)
For now, happy reading and wishing you all a wonderfully Merry Christmas and a Happy New Year!