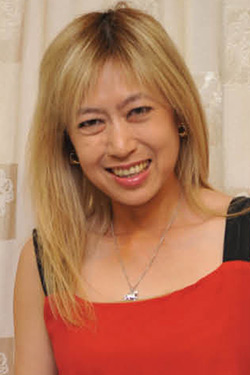 Dear readers,
The highlight of the past month has to be Lillian Too's Spiritual Feng Shui event, a full-day bi-annual seminar held in Singapore and Kuala Lumpur focused on the third dimension of feng shui, what she calls the "spiritual" dimension. Feng shui is made up of three kinds of luck – heaven luck, earth luck and mankind luck. Spiritual feng shui covers this third aspect of luck – mankind luck.
Heaven luck is what you are born with, rich or poor, intellectual or sporty, together with whatever unique talents are bestowed upon you by the gods. Earth luck is how you design your living space, your interiors and your surroundings. But to be truly happy, one needs also to address mankind luck. This is the luck you generate through the actions you take, the decisions you make and your general approach to living.
At her event this year, Lillian's broad theme focused on gaining wealth using spiritual feng shui. She directly addressed the oft asked question; how do I get rich? There are very specific means through which one can augment one's net worth, by multiplying income streams, activating windfall luck, and taking measures that prompt wealth and investments to grow. She introduced her audience to the Wealth Dzambalas, King Gesar of Ling and each of the 21 Taras, all compassionate higher beings who can help you gain material wealth. But when seeking "outer" wealth, it is just as important to seek "inner" wealth.
This year, Lillian invited a very special guest, Charok Lama Rinpoche, the reincarnation of a highly-revered lama of the Solokhumbu region, who in his talk addressed "inner wealth" – what is it, how to achieve it, and why it is important. We have known Charok Lama since he was just 4 years old, when we met him at Kopan Monastery all those years ago. Today, he is a fine young man, extremely learned in Buddhist philosophies, graduating top of his class at Sera Je Monastery, but more than that, incredibly eloquent and precise when sharing his ideas.
Charok Lama maintains that Buddhism is a philosophy, and can be practised by anyone, whatever their faith. For that reason, he prefers to call it Spiritualism rather than Buddhism. Those of you who missed the event can watch a playback – go to www.wofs.com for more info on this.
While we are on the theme of spiritualism, art and music is food for the soul, so this issue we put the spotlight on some fabulous art and music that you should not miss.
We feature the fabulous Yayoi Kusama, whose exhibition at the National Gallery in Singapore runs till September this year. This Japanese artist, whose signature is the polka dot, drawn in droves to form Infinity Nets, is the world's highest-priced living female artist. If feng shui is about awakening the energy, this exhibition will certainly do that. It will arouse the senses and inspire a new creativity in you.
Singapore is full of opportunities to experience art and culture, and another event not to be missed here is Lang Lang, the world's most famous pianist, who plays at the Esplanade this November. It is some time away, but it is best to book early! We take a look at the modern world's answer to Classical music. Lang Lang hails from China but furthered his studies and shaped his career in America; he truly embodies the best of the East but also the West, with countless admirable qualities we can all learn from.
Back in Malaysia, Dato Kee Hua Chee talks to Dato KK Johan, the man behind the Brand Laureate, a company that's revolutionising the Brand Awards industry. Kee's spot interviews with local celebrities this issue moves beyond happiness, as he asks the question What is Contentment? Most do not hesitate to make a clear distinction between the two, and it seems they consider contentment a longer-lasting emotion than just happiness.
Helen Oon's journey Down Under meanwhile leads her to Ayer's Rock, one of the major spiritual energy spots of the world. While there, she also gets to meet Chris Barns aka Kangaroo Dundee of BBC fame, a man who has dedicated his life to saving Australia's national emblem and animal.
Phillip Lim's Paht Chee case study looks at the chart of Luis Fonsi, whose song Despacito is playing almost on a loop on all radio stations, clubs and parties across the world. Luis Fonsi is no newcomer to music, but after 8 flops, this hit is one monster of a hit, topping music charts in 44 countries. Is he a one hit wonder or here to stay? His chart reveals some extremely interesting findings.
In entertainment, nothing has been more anticipated than this seventh season of Game Of Thrones, which has just opened. We are back in the land of Dragons and Whitewalkers, and loving it! The most exciting news however is that this will not be its last season, with Season 8 having just been confirmed.
With Lillian Too's Spiritual Feng Shui 2017 now concluded, tickets are available for upcoming events – Lillian in Moscow, Russia on Sunday 13th and Monday 14th August 2017.
Her Feng Shui Extravaganza, Updates for 2018 will be held in December this year, Sunday 10th Dec 2017 in Singapore, and Sunday 17th Dec 2017 in KL. More details online at www.wofs.com
Have a wonderfully spiritual month of August!