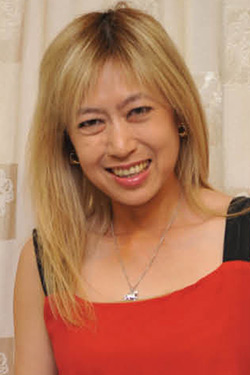 Dear readers,
Welcome to our April issue!
We enter the 2nd quarter of the year even as Donald Trump engages in a trade war with China. Definitely the Dog barking at the Dragon is causing lots of collateral damage, but this is the nature of the barking DOG year. It is timely then to look at the concept of balance as we move forward. There is much volatility these days – in the weather, in the stock markets and in the way countries view each other with suspicion. Here in Malaysia, election fever has hit us, so we too are experiencing the excitement of the year's energies.
Feng shui looks to the stability of living. Its practice can be approached in a scientific or creative way. It can be an art as well as a science, and today's energies change so rapidly with the new technologies that bring new frequencies and fresh vibrations, they simply cannot be ignored. Lillian Too makes this a theme in her articles this month, demonstrating what living in balance means. She advocates balance, to temper exuberance with contemplation, to have work with play, to experience both intense focus and carefree abandon. When you fuel the different dimensions of your life with equal effort, you will find yourself more productive, more successful and more content.
While feng shui and destiny analysis do go hand in hand, there is nothing more frustrating than fortune tellers who predict your future as if it is set in stone, because it is not. That is not how destiny analysis works. Reading one's Paht Chee is examining a big spectrum of possibilities; analysis and interpretation rely on a whole range of factors. We must understand that fate can be changed; it is possible to escape misfortune stars and enhance auspicious ones. Indeed, even Karma can be changed, which Lillian explains in her piece on the 3 Secrets of Spiritual Feng Shui's Dharma Dimension. This is the whole point of the human experience! To live our lives such that we enhance, improve and purify our karma!
This March, the world had to say some difficult goodbyes. We lost the modern world's most famous mind, Stephen Hawking, and we saw the fall of an age-old institution, the original toyshop TOYS R US.
In reflecting on Stephen Hawking, his work and his philosophy of living, his approach to science shares many parallels with the way feng shui ought to be practised. His research delved into areas of science that were impossible to physically observe, but which opened doors for new realities to be developed; the study of feng shui similarly looks at energies invisible to the naked eye, but which affect our moods and trigger certain outcomes to our various pursuits in life. Food for thought indeed.
TOYS R US, meanwhile, is the latest victim of online selling, led by the great Amazon.com. This is symbolism at its most extreme; ever since the rise of Amazon, named after the great river in South America, many much-loved household retailers have had to close down and shut their doors permanently; last year alone, 21 retailing giants in America filed for bankruptcy. The Amazon River is the largest river in the world in terms of volume of water discharged. It is also the largest drainage system in the world; and since its inception, Amazon.com has literally swept away everything in its path. Lillian Too makes some thought-provoking observations.
This is our new world. The rules for and of success have changed. NETFLIX is one company which has learnt to play by the new rules and is leading the charge in the distribution of entertainment. They have seen their subscriber base grow exponentially and have made it almost too easy for us to access our favourite shows. Companies like Netflix and others bombard us with so much entertainment, news, knowledge and all sorts of ways to occupy our time that our energy levels are always active.
Perhaps we need quiet time to recharge. For this then, short holidays can be so rejuvenating. We believe in this so much and in this issue, our travel ideas take you to the picturesque resort of Cortina d'Ampezzo in Northern Italy. Here you can soak up the powerful energies of the Dolomites, massive carbonate rocks in awe-inspiring shapes and sizes that form the backdrop of this ski resort, famous for hosting the 1956 Winter Olympics and for its appearance in countless movies including James Bond, The Pink Panther and Cliffhanger. We went here over the Lunar New year and share some amazing pictures with readers. Down Under, Helen Oon introduces us to The Ghan, a luxury train that takes passengers through the heartland of Australia. What a way to see this great continent!
Lim Han Jin meanwhile checks out Phoenix Hotel in Forest City where he went for a weekend break with his family. He tells us all about the obviously feng shui-ed features of this hotel located in what has been dubbed as "a dream paradise for all mankind." Forest City sits on four manmade islands off the Straits of Johor, just across the waters from Singapore. Developed by Chinese developer Country Garden, this mammoth project sits entirely on reclaimed land - a testament to the technologies available to the world today, with China on the forefront of this technology.
In movies, our pick for Hollywood's next HUGE star is Alicia Vikander; she has taken over from Angelina Jolie as LARA CROFT and she is totally nailing it. She has transformed the world's favourite female adventurer from a one-dimensional gun-toting pin-up to a character you can feel for and empathize with. Her recent marriage to Snake-born Michael Fassbender gives her astrological luck a big boost. Phillip Lim meanwhile looks at another couple always in the tabloid news - Justin Bieber and Selena Gomez - and investigates why these picture-perfect lovebirds just can't seem to find lasting happiness with one another.
Charok Lama explains the efficacy of the Tibetan Art of Debate to achieving true understanding of the nature of existence, while Dato Kee Hua Chee contemplates the benefits of becoming an Organ Donor after meeting Idris Mohamad, a man who chose to donate half his healthy liver to save a little girl he didn't even know.
For our personality feature, we meet real-life Barbie doll and Instagram influencer Leng Yein, who takes a different approach to plastic surgery. She admits she fell into this "addiction" having suffered a car crash which necessitated rebuilding her face; the results were so remarkable, one surgery led to another. While she is criticized by some for being totally unnatural, she argues the opposite. Medical advances allow us to do and to be what we previously could not, and if one wanted "natural", try living without soaps and toothpaste – now that's natural!
Chris Yeo's architectural column educates us on how best to select materials when doing up one's home – depending on budget, taste and feng shui. Audrey Tan introduces us to List Journalling. And Shahreen Kamaluddin reminds us of the power of our minds; she says, what you see is what you get, but you can change the way you see things. Apply the right "filter" to your vision and you can change your life - a motivational concept we can all make use of. We also highlight the uses of Clapping Therapy, and in our decluttering piece, we feature a list of items you MUST not have in the home.
Yes a bumper issue indeed, so here is wishing you a genuinely productive and profitable April and happy reading!