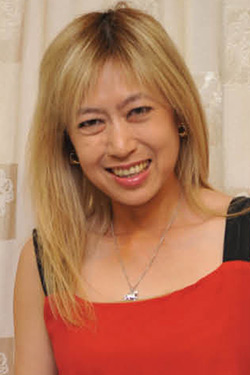 Dear readers,
Good fortune comes with maintaining good feng shui through the year and this always depends on how prepared one is as we get ready to welcome the New Year. This is the time to be thinking about the change of energies that take place as we proceed into the coming year of the EARTH DOG. This is when energies change, transforming the mix that come with the placement of the different Ho Tu numbers in the feng shui chart. This needs to be seen within the context of the coming New Year's Paht Chee and the new stars of the 24 Mountains compass. What we are investigating is the specific luck outlook for each of the animal signs as well as the outlook of the New Year.
Hence we put a great deal of effort into studying the charts and prepping ourselves before each New Year comes around. Lillian Too's major event each year, her FENG SHUI EXTRAVAGANZA does just this. In her full-day seminars, this year held in Singapore on Sunday 10th Dec 2017, and in Kuala Lumpur, Malaysia on Sunday 17th Dec 2017, she focuses on simplifying exactly what one needs to know to prepare oneself for the changing energies; what products you need and which enhancers and remedies will propel you into a enjoying another smooth and successful year. Get your tickets for the event in Singapore or in Kuala Lumpur via our website at www.wofs.com!
Remember that while aspiring to enjoy good fortune and prosperity, we need to always stay protected (and mindful of) whatever reversals of fortune may be just around the corner. Sometimes the signs are obvious, such as the enormous eclipse of the sun that swept across the entire USA heralding a season of terrible floods, killing hurricanes, deadly forest fires that have caused incredible suffering through the entire country. But reversals of fortune that hit BIG NAME celebrities must be an especially potent eye-opener.
As we put this issue together, two major reversals of fortune have become big news items in the world's press and through social networks. From the glitzy world of Hollywood, we see the fall of the mighty Harvey Weinstein, and from the highest levels of the Tibetan Buddhist world, we see the scandal of Sogyal Rinpoche finally coming to light. These men, over many years, used their power and position to intimidate, harass, frighten and even sexually abuse their victims into subservience and silence.
Lillian Too observes that this is all finally blowing up in a Rooster year, an animal renowned for its ferocity in a fight, and it is during a time when the Rooster is afflicted by the hostile star of 3. Taking a closer look at the birth charts of these two men, it also becomes clear that this ten-year period of their lives they are going through their danger pillar. Feng shui, while it helps keep Lady Luck on one's side, can only do so much. One's fortunes are based on three kinds of luck, one of which is mankind luck – how you conduct your life, how much good you do, or how much bad you do (for which karma always kicks in).
Her observations make interesting reading, going into the minds of men whose might and authority have gone completely to their heads; but it is also a succinct lesson in how to spot trouble spots in your Paht Chee.
Paht Chee, a terrifyingly accurate form of destiny analysis, is always used by Feng Shui Masters and Consultants when they go about their work. Understanding one's birth chart allows one to make plans with confidence that those plans can succeed and do not get derailed. Learning to work with the 5 elements in Paht Chee is what is needed to boost one's life force and inner essence. To guard against becoming a victim of a major reversal of fortune, it is useful to know how to read one's Paht Chee!
It is thus timely that Lillian Too's Paht Chee Masterclass was revived this past month. This had also been run as an Online Course the last few years due to lack of dates to allocate, but there was increasing demand for Lillian to teach Paht Chee as a Masterclass in Kuala Lumpur. The Course covered two weeks as Paht Chee 1 and Paht Chee 2 and it was a roaring success. As usual, the Course attracted wonderful students from around the world and we all had a great time indeed, learning about fortune analysis and socializing as well. Working hard and playing hard!
We also turn our attention to a truly significant event that took place in October and this was the Communist Party of China's 19th National Congress. This Congress meets twice a decade to select their national leaders. At this meet, where the Chinese science of lucky numbers seemed to play a significant role, President Xi Jinping cemented his position as China's current "Jade Emperor". In stark contrast to President Trump on the other side of the world, President Xi appears stronger than ever, much loved by his peers and the people of China, and it is not difficult to see why when you understand how the Chinese political system works.
China's leaders do not get to where they are by being showmen, playing to an easily-swayed electorate in a one-off election. They climb, no, they claw their way up through the ranks, and any scent of corruption (or incompetence even) at any point is swiftly and heavily punished. This 19th Congress was a showcase to the people of China and to the rest of the world that the mighty Dragon which awakened some two decades ago is now ready to fly across the globe bringing, as President Xi went to great lengths to say, "Socialism with Chinese characteristics as we move into a new era".
Looking at the depth and breadth of China's attainments the past ten years, we might perhaps take a second look at the one-party system as compared to the democratic process.
The happy news on the lighter side of looking forward to the New Year is the impending arrival of Prince William and Kate Middleton's third child – who will be born in the coming year of the Earth Dog, one of only 4 years in the 60 year cycle that bestows the Emperor Star to those born this year. This is an exceptional star that suggests a destiny that indicates great power, fame and fortune. BUT… it can turn sour during certain years when one must be careful. Hanni Lim gives tips on how you may want to plan for your Dog baby should you be expecting now, or planning on having a baby next year.
Helen Oon takes us to romantic Paris as she navigates through charming street cafes and art museums that never cease to enchant. While there, she snaps a picture of the Ritz where Princess Diana and Dodi Al Fayed spent their last hours before leaving on that ill-fated drive.
She wrote on Diana last issue, and this issue she puts the spotlight on Kate Middleton, who together with Prince William is bringing a huge breath of fresh air to the once dowdy image of the British monarchy. They are hugely popular, and together with Prince Harry, are definitely taking a Princess Diana-like approach to being royal in a modern era.
Meanwhile, our personality pieces cover several fascinating individuals. Dato Kee Hua Chee scores an exclusive interview with emcee and TV host extraordinaire Dato Mahadzir Lokman on his near-death experience. While we may have watched "Flatliners" or have some idea of what the afterlife may be like, his experience was nothing like in the movies. We also feature Dr Renesial Leong, whose story will inspire others to try their hand at property investment.
Art is an important element in interior décor, and the kind of art you hang in your home can evoke good or bad energy. It is important to be mindful of this when investing in art. This issue we feature Croatian artist Davor Saric, whose pieces done in oils and mixed media would work well as feng shui energisers. He works with bold, blending colours that focus on themes that invite deep thought. At his debut exhibition at the recent Art Expo KL he demonstrated a delightful art form that straddles his Western roots with his Eastern experiences.
Audrey Tan's journaling column meanwhile is now becoming an increasingly popular feature of this magazine, and this issue she talks about the Travel Journal, while Chris Yeo gives good advice on the more important things to bear in mind when building one's first home. Phillip Lim's Paht Chee feature features Elon Musk and TESLA's electric car.
At a time when the voice of women is being heard louder than ever, when feminine strength is advocated and applauded by men and women alike, we celebrate the life of Sunny Hale, a woman ahead of her time, breaking barriers in a world dominated by men. In the sport of polo, she was a champion not just to all the women who play, but the men as well. She made it to the very top of her field, and she showed others the way. Pink Polo KL 2017 was an event that celebrated her life, with the spirit of fighting the good fight. For me personally, it was bittersweet; she was a great friend and mentor, and for all of us that day remembering her, it was also inspiring and uplifting.
We are very much looking forward to seeing you all at Lillian Too's Feng Shui Extravaganza on December 10th and 17th in Spore and Kuala Lumpur. This year, Lillian plans on bringing new insights into the luck destinies of each of the animal signs. We are excited indeed!